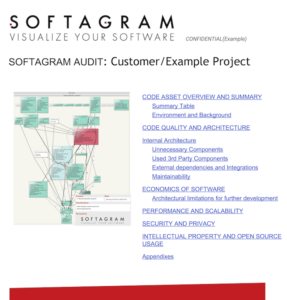 Software due diligence gives security.
We have been helping multiple companies to avoid risks and save costs when selling, buying or using 3rd party software. They've been outsourcing development teams or acquiring a company whose asset lays on software.
When you outsource your software development or acquire a business based on the software product, the resulting codebase is at the end owned by you, the payer. It is possible and recommended to audit the software by reading the code and documentation. However, it requires a software professional to understand the code, and even for an experienced professional, it would take weeks to months to go thru the codebase and understand its strengths and weaknesses.
Not having a clear understanding of the codebase could cause significant problems in operations and result in economic losses. You are already increasing costs when trying to just learn and understand the software, and there's still the risk that you end up finding, that the codebase is too risky to base your business on. You might find out that the software is just too complex and difficult to maintain, or it uses risky 3rd party components that are difficult to replace, or it is contaminated by harmful open source licenses.
Full audit in one week
Using an impartial, independent 3rd party view, you are able to get a clear report on the issues within a week. With Softagram Audit, we will crunch the codebase using our powerful analytics engine that provides an easy to understand, visual, navigable architecture model. With the help of that, we are able to demonstrate the architectural, security and maintenance related issues and provide a clear audit report with recommendations. This report can then be used to also transfer knowledge for the new development or maintenance team.
Softagram Audit (starting from 3900€)
Full graphical presentation of the software architecture

Report on software maintainability

Open source software usage and listings

Software architecture audit

Security aspects
If you want to be safe from surprises and have a full 3rd party analysis of your own or purchased software, you can get it in a week from Softagram! We are the only player in the market supporting visual analytics of software assets consisting of 10's of millions of lines of code and our world-class software experts doing the due diligence for your software asset.
Want to have an example audit report? email to tommi@softagram.com
"We utilised Softagram Audit for outsourced mobile app analysis. Summary helped greatly our decision of the continuity of that product." – Simo Lohi, CEO, Perusterveys